UFC London 2020
Woodley vs Edwards
European events are the best selling events on the calendar and regularly sell out with incredible speed so this page is a detailed guide to improve your chances of acquiring tickets for UFC London 2020. This will take place on Saturday March 21st and ESPN.com is showing the event as starting at 5pm GMT with the Main Card at 8pm.
This page will regularly be updated as more information becomes available. Please also follow me on Twitter or search for #UFCLondonGuide where I will post all new info, creditable rumours, confirmed fights, events around the event etc.
Should You Go?
With the weak Pound there has never been a better time for Europeans & those further afield to attend a UFC event in the UK. Cards are generally better quality than those elsewhere in Europe and you can pretty much guarantee a full arena with great atmosphere. Travel links are second to none!
Cagewarriors are having a London event on the 20th March, the night before the UFC, held at the smaller Indigo venue within the O2 building. Tickets are on sale from £29.15 on AXS here with free Print At Home delivery. Tickets are available via Eventim starting at £28.75 but watch out for the $7.50 delivery fee. At present, anyone buying a ticket will get access to a Cagewarriors specific presale for UFC London. Keep an eye on their twitter page for more information. 2 Premier League games are also due to be played in London that weekend. Chelsea vs Man City and Tottenham vs West Ham. Make a weekend of it and try to get to one of these too, maybe?
If you're travelling alone, don't worry.  MMA is still a niche sport in Europe and there are lots of other fans attending alone, especially amongst the Fight Club fans at the front of the floor sections. Plus everyone is generally happy to talk about the card.
Travel & Hotel
Price is often demand driven so once an event is announced, prices can rise sharply.
Book a refundable Hotel room so there's no risk if you change your mind.  Rooms with free cancellation can sometimes cost more that ones without so once you get your travel & event tickets sorted and are 100% sure of going, book the cheaper non-refundable room before cancelling the dearer, refundable one. A hotel near the arena is not necessary, just book one that has good access to the TFL Underground network.  The TFL tube map is available here. The O2 is at North Greenwich station (square D8) You can use their Journey Planner to see how to get to/from the Arena.
If you don't live local, look at travel prices and see what is available. They will only rise in price as you get closer to the event. Flights with low cost airlines may be so cheap that you could deem it worth taking the risk to book now. Heathrow, Gatwick & London City are the easiest airports to access the City but Stansted, London Luton and London Southend are also possible. Don't forget to consider the cost of travel to/from the airport to your accommodation when booking. I recommend SkyScanner for checking flight prices and as you are able to select London (any) for all 6 airports.
Here are some sample prices for flights from Friday 20th March, returning Sunday 22nd March. These are for the cheapest return flights when the card was first announced:

For those on Mainland Europe, coming by the Eurostar train may also be an option.
Foreign Exchange
To make the most of your money, get a Revolut card by downloading their app on your phone. You won't travel without it again as the exchange rates are top rate with no bank non-sterling fees (usually around 3%). The card is contactless so can also be used to pay for anything under £30 just by swiping a reader and can be used instead of buying a ticket/travelcard when travelling on the Underground/buses etc. It's free if you use the link above. Also great value for any Brits heading off to Europe in 2020 (probable Paris show.)
If you're already a Revolut customer and recommend it (or don't) tweet me with #UFCLondonGuide so others can see.
VIP Sale
VIP tickets will go on sale at 9am on Wednesday 29th January. Prices range from £449 to £1499 and you can have a look at Ticketmaster to see what kind of benefits come with each package, however most people go for the free bar and photo opportunities with many fighters backstage, along with a good seat.  VIP tickets for UFC London in 2019 cost £470, £870 & £1,250.
UFC FightClub
This sale will start at 9am on Wednesday January 29th 2020.
If you have already joined, check your subscription expiry date. Fight Club have occasionally been known to keep your code active past the expiry date in error so log-in and check if you've got a code a few days before the sale starts. Codes and a link to both AXS & Ticketmaster sales are already up here.
Joining costs $95 including postage (£73, €86) for 1 Year and gives you a much better chance of getting tickets. You can only pay in US Dollars so another reason to sign up to Revolut. You can join Fight Club anytime before they go on sale or you can buy tickets and a membership at the same time once the sale goes live. Joining the day before means you will have your code if you want to make more than 1 purchase (i.e 2 sets of 2 tickets.) Buying tickets & membership at the same time means there's no money lost if you end up not getting any tickets. However you may not get the code quick enough to have an immediate 2nd go at buying tickets.
There is a 6 ticket limit so you can split the cost between your group. Get as many of your group to log on and attempt to get tickets but don't go over the limit or tickets will be cancelled. Never share your code with people you don't trust. It is the same code for the whole year and anyone you share it with has the potential to use it until it expires. If you're intending to go to the rumoured Glasgow & Paris events then it really is a must.
Not all tickets go on sale and sometimes whole sections are unavailable and saved for the later sales.  Often, there are very few of the cheapest tickets available so talk to all those going and agree on a max price, including Booking & Fight Club fees. Usually the first 2-3 floor rows are not available as these are held back for VIP tickets, guest fighters and the friends/families of those competing.
For the Fight Club sale, a map and ticket prices inclusive of booking fees are often not available until the sale is live. Tickets are usually sold on both AXS and Ticketmaster platforms. Ticketmaster and AXS get separate allocations of tickets with Ticketmaster seeming to have the larger share in recent years. The AXS waiting room opens 30 minutes before the sale starts, at which point customers are randomly placed in the queue. Ticketmaster counts down until the start of the sale, at which point thousands of people attempt to search for tickets, producing many errors and often long periods of 'searching for tickets' messages before it mostly produces no results.  Keep reading below for tips on all sales windows.
Confirmed London 2020 prices
Rumoured UFC London 2020 prices with fees

Form a previous UFC event at the O2, this image shows how various colour-coded sections around the stadium may be staggered in price. 2020 prices will be higher but the layout and staggering of prices should be very similar
O2 Priority
This sale is currently showing on O2 Priority as starting at 9am on Wednesday January 29th 2020, with the waiting room opening from 8:30am, however this may change as Fight Club presales have always started first and on their own. Check back for updates. O2 Priority offers O2 phone customers another chance to get tickets. Tickets are
very

limited but some will be successful. If you are a UK O2 customer, register here.
Sims are free for anyone in the UK from O2 here. If a friend is on the O2 network, they could join O2 Priority and give you their log-in details. A code may be sent by text to confirm your account so the friend would need to pass that on promptly. You need to be clearing cookies & cache on the morning of the sale so will almost certainly require the code texted to the phone the next time you log-in.
This sale uses the AXS site only and there is usually a 2-4 ticket limit.
Cage Warriors Tickets
 Tickets for Cage Warriors 113 went on sale on Thursday 4th December and they announced that anyone buying a ticket would receive a code for early access to the UFC London sale. This offer has been extended and anyone buying a Cage Warriors London ticket will still receive the code. Some information is here. I've reached out to Cage Warriors for more details on limits, what price ranges will be available, confirmation of sale times etc but they have failed to respond. Their page is very badly written and since they haven't responded, it could be to the fact this sale takes place after the Newsletter sale so would be the last of the presales.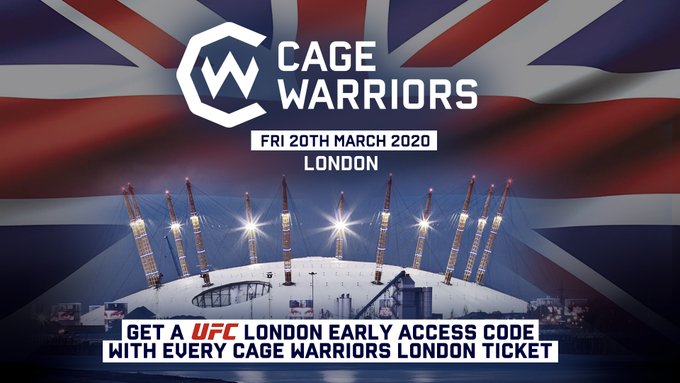 UFC Newsletter/Social Presale
This sale will start at 10am on Thursday 30th January. These tickets are also very limited and require a code to gain access, usually #UFCLONDON or #UFCSOCIAL. Keep an eye on UFCEurope and check #UFCLondonGuide for confirmation nearer the time. This sale will use both AXS and Ticketmaster platforms and has an 8 ticket limit.
General Sale
This sale starts on Friday 31st January at 10am & is the free-for-all when all remaining tickets will go on sale. It has been known to sell out within minutes for previous UK events. It will be available on both AXS and Ticketmaster and has an 8 ticket limit.
Tips for all sales
Clear your cache and cookies a few hours before the start of the sale. For Chrome, for example, press CTRL+Shift+Del. Failure to do this may mean you will never be offered any tickets. I've seen this before on sales with much less demand where I am not getting anything, people are posting on social media that lots are available and when I clear the cache & cookies, I get an immediate offer. After you have done this you will need to log-in to any open pages again.
Copy any code you need such as Fight Club or Newsletter codes so that it is ready to paste in quickly. Also keep the seating plan in a separate tab so you can quickly check what seats you are being offered.
Log into Ticketmaster and AXS and save your payment details, especially if potentially buying more than 1 set of tickets. You can delete these details immediately afterwards.
Agree maximum ticket price amongst your group, including booking fees. The payment card may need to be taken to the venue along with the person named on the card in the event of your tickets going missing, getting damaged or you choose to collect at the venue. Always best to ask for money from friends up front!
Use as many devices as possible, especially for AXS where you are randomly placed in the queue.  Mobile devices often seem to get better results. Get as many of your group, friends & family to do the same. Open a group voice chat/call so you know when you have enough tickets. Multiple windows in the browser does not work but I have found that a normal Chrome window and a separate Incognito window in Chrome does allow you to join the queue twice.
Be prepared for your group to sit separately as only pairs may be left quite quickly.
A detailed map where you can choose your exact seats is not usually available due to demand but may become available after the first hour or when the demand decreases, if seats are still available. If it tries to load the map at the start of a sale, I tend to click on 'Find Seats For Me' before it loads. Many times it tries to load the map, only to say it is unavailable due to demand. Sometimes it even lets you select seats before the error message appears and you need to start all over again.
Keep searching on Ticketmaster even if it says no tickets are available/error. It does this due to high demand as many thousands will be searching at once. Keep going for at least the first 30 minutes as tickets that fans reject will continue to come back on the market, as will those where the time expires. You are free to reject and search again if you get offered an unsuitable alternative.
With AXS, if you reject the tickets they can often put you at the back of the queue again.
Keep a window open for UFCEurope's tweets as they will let you know when it is genuinely sold out.
If you get offered tickets there will be a time limit but do not panic. As you select them and go through each screen, more time will be added. Take care to select the correct options such as Souvenir tickets, Insurance and most importantly, the correct Country/Area for delivery. Choosing the wrong Country may mean you lose the tickets by trying to go back a page or due to your billing address being incorrect.

Stick to the confirmed ticket limits and never go over. Limits for London 2020 will be tweeted and updated here once known.  You also have to stick to the maximum combined limit which is likely to be 8 tickets. This means you can't buy, for example, 6 Fight Club, 2 in Newsletter and 4 in General Sale. I have seen evidence of cancellations due to going over these limits. Payment card numbers, addresses, Fight Club codes, Ticketmaster account & AXS accounts are the way they identify who is breaching these limits.
Where to sit
For all sections, the closer to the Octagon, the better. That said, there are a few tips to maximising value.
Floor seats - Once you go past the 10th row, it can be hard to see with all the heads in the way and the inevitable idiot who stands up way too much. I wouldn't book a floor seat past row J. Rows A-C will likely be held for VIPs, fighters and their guests. The middle of a row is better as you will have to stand up to let less people past. The end of the row being easier for access. The Octagon is slightly above floor level but you will find cameramen and photographers can block your view. Staring at the screens for too long can literally be a pain in the neck. That's why I deem Floor seats to only be good value within the first 10 rows. Watch out for the D section of floor seats, located at the back and the worst floor seats available.
Tier 1 seats - Forget the first 5 rows of Tier 1 as anyone walking around the floor will interrupt your view. This may be a price you're willing to pay if you are on the walkout route.
The black squares 1 & 2 on the map above show my preferred seats in Tier 1. Slightly off centre so you are not paying the premium prices and above the 5th row.
Tier 2 seats - If you can get a seat in row 1 or 2 of the 2nd tier you will have an uninterrupted view and are certainly the best of the cheaper seats. Black square 3 shows the ideal area as it's the closest Tier 2 seats to the cage.  Leg room may be a little restrictive in row 1.
Missed out on tickets?
All is not lost. As well as the Resale sites with their extortionate mark up, tickets may be listed on Twickets, a site where the seller can only post at cost price. Buyers pay the cost price plus 10% fees and cost of delivery, if applicable. You can set up alerts for when tickets are posted and have some buyer protection. AXS also have their own new AXS Official Resale service where tickets will be posted on the same page as the initial sale. These will also be sold at cost price plus 10% fees. Ticketmaster offer the same but the price is limited to the original sale price, including fees.
Keep an eye on UFC Europe tweets in the days before the event. They can condense the seating areas to get in an extra few rows on the floor as well as releasing any unsold VIP/Platinum seats. They often call these 'Production Hold' seats and have even been released on the day of the event.
During the final week especially, as people realise they can no longer attend, priorities change or the ticket touts worry their tickets won't sell, prices on Resale sites such as Stubhub & Viagogo should reduce in price.  You can set an alert to be informed when tickets are posted within your budget.
Well done on getting this far! Keep checking back for the latest information. You can also check my page or #UFCLondonGuide.
Feel free to let me know if you think something is missing or if you have any questions. I'll do my best to answer them!!